Be your employees' retirement champion
As an employer within the Commonwealth of Kentucky, you are in the best position to help employees understand the value of preparing for their retirement income needs through the Kentucky Deferred Compensation Program (KDC). We've prepared a comprehensive Leaders Guide to help you support your employees as they enroll and participate in KDC, and prepare for and live in retirement.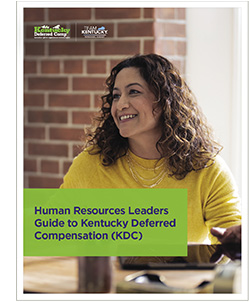 Be your employees' retirement champion
KDC provides unique retirement savings opportunities through two plans and five options that offers employees easy participation and flexibility. Use these tools to help you connect with employees.
Subject area
Materials to share

Why employees should enroll in KDC

Why KDC. Explains the role of KDC as an employee benefit and a critical retirement savings opportunity.
Know Your Retirement Benefits. Describes the difference between pension and supplemental retirement plan benefits.
Plan Comparison Chart. Describes the differences between Program options in greater detail.

How to decide how much to defer into KDC

How to invest through KDC

How participants can get answers to their questions
For you as the employer:
Ensure you're signed up for FastPay to make submitting payroll and census data faster and easier. When it's easy for you, it's smoother for your employees.