Jim Henderson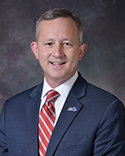 Jim Henderson is the Executive Director/CEO of the Kentucky Association of Counties (KACo). Created in 1974 as an association for county government advocacy, KACo has grown into a multi-faceted organization offering insurance, financial services, education, research and technical assistance to Kentucky's 120 counties. While remaining focused on its core mission to serve as the voice for counties, KACo continues to look for new ways to serve the needs of its members.
Prior to joining KACo, Henderson was elected to five terms as Simpson County Judge/Executive. Elected in 1998, at age 28, he was also the first Republican to be elected to the post in the county's history. During his time as Judge, Henderson rose among the ranks, serving in various roles with regional and statewide boards and commissions.
Elected by his peers from across the Commonwealth, he served as 2016 President of KACo. He was a member of KACo's Executive Committee and Board of Directors, and filled the role of Legislative Committee Chairman during the 2016 Legislative Session. He was 2014 President of the Kentucky County Judge/Executive Association (KCJEA) and was a member of its Executive Board and legislative committee.
Henderson is a past president of the Barren River Area Development District, which is comprised of the judge/executives, mayors and citizen representatives from the 10-county region. Henderson was also board treasurer of the Community Action Agency of Southern Kentucky and was a board member and past chairman of the Barren River District Health Board, which oversees eight area public health departments. As a founding member, Henderson also served as chairman of the South Central Kentucky Drug Task Force Board of Directors.
Recommended by Sen. Mitch McConnell, in 2012 Henderson received a Presidential appointment to the Truman Scholarship Foundation Board of Trustees, serving for five years. In 2013, Henderson was selected for the Board of Directors of Citizens First Bank, a regional bank in southcentral Kentucky. He left that post in 2017 after coming to work with KACo.
A lifelong Simpson County resident, Henderson is 1992 graduate of Western Kentucky University. He is married to his high school sweetheart, Karen. Jim and Karen have three adult children. The Hendersons live on their small beef cattle farm in east Simpson County.
NRW-6969KY-KY