Gerina Whethers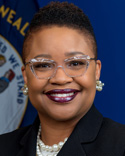 Gerina D. Whethers has accumulated over 16 years in public service for the Commonwealth of Kentucky.
Known for creating innovative program and services, Gerina had recently served as Executive Director for the Attorney General's Office of Senior Protection and Mediation.
She was responsible for creating this grassroots division under the leadership of Andy Beshear.
Prior, Whethers served as Executive Director in the Office of Victims Advocacy at the Office of the Attorney General.
Before her service at the Attorney General's Office, Whethers accumulated 10 years of service working on Criminal Cases in Jefferson County.
Whethers received her Bachelor of Arts in Political Science at the University of Louisville and her juris doctor from the Brandeis School of Law.
NRW-6972KY-KY.1