Take the stress out of your financial choices
Perhaps the most difficult decisions in retirement plan participation are deciding what to invest in and how to avoid the possibility of losing money in the market. You can never completely get rid of investment risk, but you can use some techniques that tend to reduce risk over time. Most Kentucky Deferred Comp participants are long-term investors, meaning time is on your side.
Spread your assets around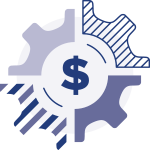 One commonly used technique to reduce investment risk is diversification. Because most asset classes do not gain or lose value at the same time or at the same pace, diversification allows you to spread your investments around with a goal of reducing the impact of market losses to your portfolio over time. The challenge is that the investor needs to understand the investment objectives of not only the asset classes but also the funds in them.
If you're not comfortable making asset allocation decisions, or you want decisions to be made for you on an ongoing basis, Kentucky Deferred Comp offers a solution.
---

Get a diversified investment mix in one fund
You may achieve a diversified investment mix simply by choosing one of the target-date funds (TDFs) in Tier 1 of KDC's Spectrum of Investment Options. Kentucky Deferred Comp offers TDFs known as Vanguard Target Retirement Funds.
This series of funds is designed around the approximate date you expect to retire or begin accessing your funds, as indicated in each fund's name.

Vanguard's target-year suggestions are based on a retirement age of 65.
If you plan to retire significantly earlier or later, you may want to consider a fund with an asset allocation more appropriate to your situation.

The assets in each fund are allocated to other Vanguard stock and bond funds to seek a blend of growth and current income.
The funds are managed to become increasingly conservative as they approach their target date and beyond.

What you should remember about investing in a TDF
TDFs are designed to provide diversification according to a targeted objective. You should put all your assets in one and only TDF.
The investment risk of each TDF tends to decrease over time as its asset allocation changes.
TDFs are subject to the volatility of the financial markets and may be subject to risks associated with investing in high-yield, small-cap and foreign securities.
Investment principal is not guaranteed at any time, including at or after the designated target retirement date.
TDFs invest in other funds. Therefore, investors pay not only the expenses of the TDF but also a proportionate share of the expenses of the funds its manager invests in.
---

To discuss how investing in a TDF could help improve your financial wellness in retirement, call your local KDC Retirement Specialist or the KDC office at 1-800-542-2667.
Prospectuses are available on this website by clicking the Prospectus link. For additional help with obtaining a prospectus please contact us. Please consider the fund's investment objectives, risks, and charges and expenses carefully before investing. The fund prospectus contains this and other important information about the investment company. Read the prospectus carefully before investing.​
Kentucky Retirement Specialists are Registered Representatives of Nationwide Investment Services Corporation, member FINRA, Columbus, Ohio. Nationwide representatives cannot offer investment, legal or tax advice. Contact your own advisor for these services.
NRW-6946KY-KY