Invest time in your future dreams.
When you refine the information in My Interactive Retirement Planner℠, you give the Nationwide ProAccount professionals what they need to deliver an experience that's better aligned to your specific needs and expectations. It's easy and takes just minutes.
Update your profile in the Planner today.
Expand All
Nationwide ProAccount is KDC's managed account service, which is available for an additional fee. Nationwide has hired Wilshire as the independent financial expert to select an investment portfolio based on your age, personal tolerance for risk and additional information you provide to us. They will continue to research, select, monitor and adjust your investments over time, as market conditions change or you provide us with new information.
Help take the guesswork out of retirement investing. Enroll in Nationwide ProAccount.
Only you can answer that question. However, answering these questions can help you decide.
Do you sometimes find yourself overwhelmed by choosing investments and maybe even a little intimidated by the process?
Would you feel more confident knowing that a respected investment management firm was managing your portfolio?
Would it give you confidence to know that professionals are making adjustments to your portfolio as needed to keep it in line with your objectives?
If you answered yes to any of these questions, then Nationwide ProAccount may be a good choice. To learn more without any obligation, please complete this questionnaire.
Institutions have consistently outperformed retail investors over various time periods. This suggests that individual investors could nonetheless benefit from taking cues from their institutional counterparts to improve the overall performance of their portfolios. That's the benefit of Nationwide ProAccount®.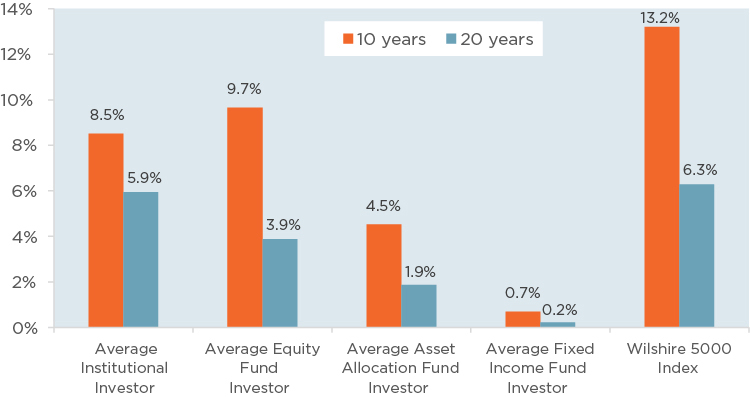 Source: DALBAR and Wilshire TUCS®. Average Equity Fund Investor, Fixed Income Fund Investor, and Asset Allocation Fund Investor from the DALBAR Report. Average institutional investor data from Wilshire TUCS is represented by the median total returns of master trusts - all plans, as of 12/31/18. The chart shown intends to demonstrate what Wilshire believes to be the effect of behavioral biases, including market timing, exhibited by retail investors. The reader should view these returns in consideration of other relevant additional factors and should not rely solely on performance data shown.
1 "Staying Focused on Long-Term Investment Goals," Wilshire® (September 2019).
This material is not a recommendation to buy, sell, hold or rollover any asset, adopt an investment strategy, retain a specific investment manager or use a particular account type. It does not take into account the specific investment objectives, tax and financial condition, or particular needs of any specific person. Investors should work with their financial professional to discuss their specific situation.
Investing involves market risk, including possible loss of principal. No investment strategy or program guarantees a profit or eliminates risk. Actual investment results will vary depending on your investment and market experience and there is no guarantee that fund objectives will be met.
Nationwide Investment Advisors, LLC (NIA) provides investment advice to plan participants enrolled in Nationwide ProAccount. NIA is an SEC-registered investment adviser and a Nationwide affiliate.
NIA has retained Wilshire® as an Independent Financial Expert for Nationwide ProAccount. Wilshire provides investment allocation portfolios based on participant ages and their personal tolerance for investment risk.
NIA assesses participants an asset-based fee for the managed account services.
Retirement products are offered by Nationwide Trust Company, FSB or Nationwide Life Insurance Company.
Wilshire is a registered service mark of Wilshire Associates, which is not an affiliate of Nationwide or NIA.
Nationwide Investment Advisors, LLC, 10 W. Nationwide Blvd. (5-02-208), Columbus, Ohio 43215-2751. Nationwide ProAccount is a service mark of Nationwide Mutual Insurance Company. © 2019 Nationwide
NRW-6819KY-KY